What Digital Can Do For You
When developing the Engineeringtool, item wanted to put the power in the users' hands.
The core concept behind the Engineeringtool is to make 3D engineering with item components possible even for those without their own CAD system.

Here's what going digital can do for you:
Ease of Access

Accessible across all modern web browsers, with no need for additional software

Ease of Sharing

Unique project numbers allow you to share your designs with colleagues across the globe

Ease of Compatibility
CAD Data output options allow you to transfer projects from Engineeringtool to your usual CAD environment
Tips & Tricks for Maximizing Engineeringtool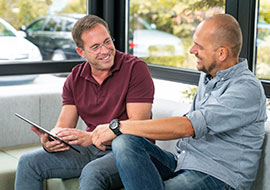 "Of course, the Engineering tool is really good, it allows you to create a basic structure of the design you have in mind, it is practical, you do not require a previous training to use it. The option you have for saving your design in the cloud is very good.
In general the Tool is really useful and I think it is the first step before starting a project."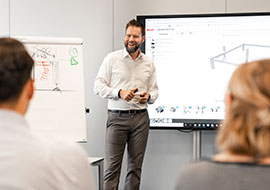 "…what I have seen about the tool is that it is a good support and it is an educational development for our associates, because they can do the designs "in paper" before doing these physically… In general, for me it is an excellent tool." – quoted from a manufacturing Design engineer offering feedback on the item Engineeringtool
Fluent in Engineering
When item set out to design the Engineeringtool, versatility was a major consideration. While the tool was designed to operate in a way that enables non-engineers and people with no CAD experience to use it with ease, even professional engineers use the tool for various tasks. Used for everything from training and education to acting as a digital 3D prototyping and rendering tool, the item Engineeringtool is here to help you put your ideas into focus.
Do you need advice, answers, or assistance with your current project needs? Item Experts are available to work with you!