Get a free sample kit and experience perfect lean production!
Simple handling is the key feature of Line D30 and delivers maximum cost efficiency through continuous improvements in manufacturing processes.

Exceptional performance – significantly lighter than steel designs yet exceptionally stable, thanks to the benefits of profiled tubes. Fastenings can be implemented anywhere – in the perfect position and at any angle giving you the ultimate flexibility for turning your ideas into reality.
For more than 30 years, item has been providing engineers, integrators and production managers solutions to engineer change. Because your ideas are worth it.®
The advantages of the Profile Tube System D30


Fastening technology that exhibits long-term stability

Constructions that can be easily adapted

For factory equipment, intralogistics systems and low-cost automation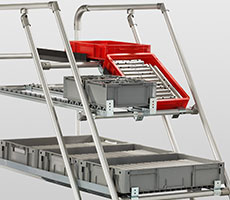 Custom factory equipment
D30 aluminium profiles and fasteners can be assembled directly on site to build sturdy racks and factory equipment. All connections are stable as soon as they have been tightened.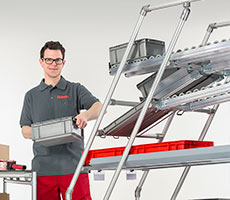 Efficient material flow
Mechanical automation solutions without drives, electricity or compressed air take the strain off employees and make processes more efficient by exploiting the laws of gravity and mechanics. Move and save time and money with the Line D30 system.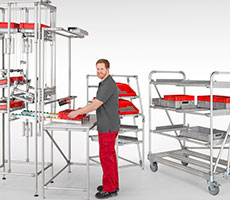 Karakuri/low-cost automation
Low-Cost (Intelligent) Automation (LCIA) typically costs around 80 to 90 percent less than comprehensively automating production processes – but delivers a similar level of efficiency. Move and save time and money with the Line D30 system.